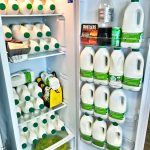 I mentioned at the top of the month that I drink quite a lot of tea, at work.
I'm not the only one (although I have to mention that other hot beverages are available).
Of course, no-one in their right mind takes their tea black.
As such we have a fridge at work, in which to keep the milk.