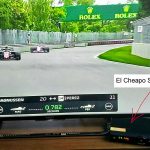 Today was the day of the Montreal Grand Prix.
A circuit where Lewis Hamilton  won his first race and one where he usually excels.
A track where Jenson Button won what was – IMHO – one of the best races of the modern era, in 2011.
I became interested in Formula 1 and it's British drivers, when the young and prodigious LH started showing what he was capable of.
And when JB joined him at McLaren, it was, for me, the dream team and I've been a fan ever since.
But I'm not that big a fan that I want to dish out my hard-earned to Rupert bloody Murdoch.
So, for the races that are not available on terrestrial television, I watch them on German satellite channel RTL. The dish sits in the garden, bolted to a paving slab and 5 mins before the race starts, I just feed the cable in through an open window and into the receiver box which then feeds the telly using an old-fashioned SCART lead.
I've been watching it like this for the past four or five years.  Yes, there are adverts to put up with – annoying German ones, at that – but this arrangement  only cost me a one-off payment of just forty quid.  If I'd paid SKY for their F1 channel, I would have paid out well over a thousand pounds, by now.
For that sort of saving, I can put up with a few adverts 🙂