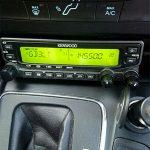 My journey to work – as I've oft mentioned – is a horrible one and takes far longer than it damn well should.
Generally, to while away the time, I listen to podcasts.
But, a few weeks ago, I fitted a VHF/UHF radio transmitter in the car (that's it in the picture above). This allows me to converse with other like-minded idiots as I travel.
And it's amazing how much quicker the time flies when in conversation with someone.
I wish I'd done it years ago.