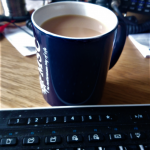 Pinch punch an' all that.
I am working from home today (OK, I'm on a break right now).
I'm fortunate enough to be able to work from home most Fridays.
"Work", for me, in the main, involves having my head stuck in my laptop for much of the day. At work, this is punctuated with meetings.
Many, many meetings.
Obviously, when I am at home, I can't attend any meetings, so the day is peppered with phone calls, instead.
But, whether I am working at work or working from home, one thing remains a constant.
Tea.
White. No sugar. I will easily drink six to eight cups, during a working day.
And then I wonder why I have to get up twice in the night for a wee.
The cup of tea you see in the picture above, was taken about five minutes ago, so I'd better go drink it before it gets cold.  I have some lovely shortbread biscuits to dunk in it somewhere, too.
Oh, and this post comes to you courtesy of young Mr Jones' Banal Blogathon challenge, which I stupidly agreed to do, so be prepared for some pretty mundane stuff heading your way.