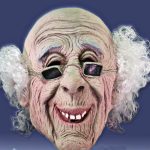 Today – as young Bren was keen to point out to me, ridiculously early this morning – is my birthday.
So, how old am I?
Very old.
At least, that's what my kids are always telling me.
But, age is just a number, apparently.
However, it's a number that my head disagrees with and my knees complain about… constantly.
I do exhibit many of the tell-tale signs of advanced age, though:
I have no idea what is number 1 in the charts and I doubt I would recognise many of the artists. The best decade for music, of course, was the eighties.
We all know that.
I have no idea about many of today's 'celebrities' – they're just unfamiliar faces on the front page of the tabloids, as far as I am concerned.
And I fondly remember sloppy disks; diskettes; Compact Cassettes ; VHS, Betamax and Video 2000; Laser Disks; Walkman(s); Fred Housego; Anneka Rice; Kenneth Williams; The Goodies and Bless This House; Stingray and Joe 90 and much, much more.
Better times, I reckon.
Maybe.