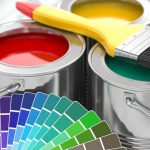 I mentioned last month that we had finished decorating Amelia's bedroom.
Well, now we have almost finished doing Harry's.
Similar to Amelia's, he has new fitted wardrobes; new carpet; a new bed and new furniture.
And it all looks very nice.
But there is one thing we have recently discovered, during our decorating activities.
Mrs M always used to help out with the decorating, but the bulk of it was always done by myself. 
That has now swapped around.
Because, it turns out that Mrs M is actually a pretty good decorator and, though it pains me to admit it, her painting skills are much better than my own.
I've tried slapping it on quickly and I've tried putting it on slowly, but however I try it, I always seem to get runs and drips when glossing the woodwork. Doors, especially.
But Mrs M's doors are always pristine: evenly covered and not a run in sight. It's quite annoying, actually.
But, it's an annoyance I am happy to put up with, because it means I don't have to do it.
And, much as I hate decorating in general, my ego is quite pleased that I still have the edge when it comes to doing the wallpapering.