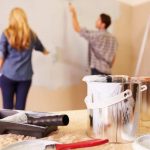 I think I mentioned earlier that we are in the throes of decorating Amelia's bedroom.
It's just about finished and it looks wonderful. She is well chuffed.
And so she should be: new fitted wardrobes; new carpet; new furniture; new bed; new lights; new everything.
It's cost a small fortune, hence no holiday this year.
And now that it's finished, we get to start on Harry's room next month. Hurray!
Of course, I'm damn sure that once those two bedrooms are looking all spick and span, Mrs M will want ours doing, to match.
That just leaves my playroom (AKA Masher's Man Cave) and the bathroom to be done, so that the whole of upstairs is all fresh and lovely.
Of course, if you are going to do all the upstairs, then…
And repeat.