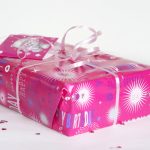 Yesterday was the current Mrs Masher's birthday.
I didn't buy her a laptop in the end, because she changed her mind.
So instead, I spent ages trudging up and down the shopping mall, before eventually deciding that I probably wouldn't go far wrong with a substantial gift card from Debenhams.
Well, it's the thought that counts.
And I thought "That'll do."
Anyway, she seemed happy enough with it.
We went to the pictures in the afternoon, to see the latest Marvel epic and then followed that up with a meal. Well,  a Nando's.
At least, that was the plan.
It all started going wrong when Mrs M booked the tickets.  We turned up for the 3:45 showing – a little late, due to Amelia hobbling slowly all the way from where I had parked the car… more on that later – only to find that Mrs M had actually booked the 2:45 showing.  Oops. There's 32 quid down the drain. So, we spent another 32 sovs and booked for the 4:45 showing and had a coffee whilst we waited.
The film – The Black Panther – didn't really work for me… not the best from the Marvel canon, in my opinion. And Mrs M didn't enjoy it at all.
Afterward, I said that I would leg it back to the car and drive it down to save Amelia hobbling all the way.  I expected them to wait at the bottom of Alma Street, which which was the route we had taken when we walked from the car. When I got there, there was no sign of them.
I rang Mrs M. No answer.
I rang Amelia. No answer.
I rang Harry. No answer.
I drove round again, ringing them as I went.
No answer.
I parked the car and walked back to the cinema entrance. No sign of them. I rang again. No answer.
I walked back to the car and drove back up to where I had originally parked it, just in case. No sign of them. I rang again. No answer.
Not knowing what to do, I just kept driving around and ringing… and getting annoyed. What's the point of them all having phones if I can't get hold of any of them?!
Eventually, Mrs M answered.  "Where are you?" she asked, "we've been waiting ages"  Arrgghh!
"Never mind me, where are you?" I shouted.
"Well, you can't park at the front, so we walked round to the left, to make it easier for you"
"You went left?  Oh, OK, well I wasn't expecting that. Just stay there, I'll drive round" and I hung up. I was not happy. Why had she gone left when the obvious direction to take was right: back toward where the car was parked?
With the one-way system, it took me a little while to get there. There was no sign of them. I rang again.
"Where are you?" asked Mrs M.
"Me? Where the bloody hell are you? I'm at Guildford Street now."
"What are you doing there? I'm at Alma Street"
"But you said you turned left"
"Yeah, I did. I turned left and now I'm at the junction with Alma Street"
"To get to Alma Street, you'd have to turn right when you come out of the cinema!"
"Well, I turned lef… no, you're right, I did turn right." Aarrgh!  "You wait there, I'll come to you"
"No you won't! You bloody wait there!!"
I drove back round to Alma Street and saw them waiting… right where I was expecting them the first time round, twenty minutes earlier.
We drove home in silence.
When we got home, Amelia was in tears. She had stubbed her toe quite badly on her bedside cabinet on Saturday and it went a bit purple. But now it was really hurting her and it had gone black, purple and red and was quite badly swollen. Mrs M decided it would have to be a trip up the hospital. Just what you want at 8 o'clock on a Sunday night.
Four hours later, she returned home, with Amelia hobbling behind her. X-rays had confirmed a cleanly broken little toe.
Ouch.
Best Birthday ever?
Probably not.