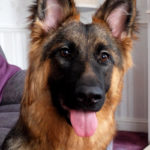 We had a few concerns about Saber's back leg: she would often cry out in pain if she put a lot of pressure on it and she didn't like it being touched. So, knowing how German Shepherd dogs can be prone to problems with their hips, we booked her in for a check-up at the vets.
The vet checked her all over and said she was in fine form, but that there was some obvious tenderness around that particular leg. She suggested an X-ray, to see if there was an issue. At 300 quid, I wondered whether we could just take her up to the hospital, but apparently not. Saber was duly booked in and earlier this week, Mrs Masher took her back to the vets.
This time, she saw the owner of the practice, the venerable Julie. She checked Saber over fully, from head to toe, even sticking a finger up her fanny to check whether she was in season or not (well, that was her excuse for doing it, anyway). Then she got Mrs M to take Saber through the doggy obstacle course that they have in the back garden. She watched how she walked, trotted, turned and jumped and then declared that she doubted there was anything wrong and that an X-ray was not needed. Result! That's a handy saving, just before Christmas!
However, she did say that we are giving her way too much exercise at this stage in her development. At nine months-old, this dog has so much energy and we now have to cut her exercise regime down by more than half!
It's for the best, but the poor thing cannot understand why I don't take her in the woods anymore and let her chase the squirrels. 
The bushy-tailed vermin, on the other hand, are probably quite glad of the respite.