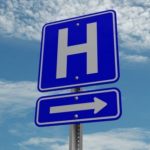 I had to drop Mrs M at the hospital yesterday, as she needed a check-up for, well…  you know: "ladies things".
"I want to go ten minutes early", she said, "as I don't know where the gynaecology deptartment is."
"Surely it's at the front entrance", I said.
Nothing. Not a titter.