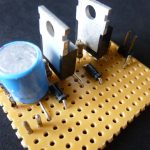 You know when you build a ringer circuit to drive the bells on an old rotary telephone powered by an Arduino, and you design the veroboard layout, optimising it to get the board as small as possible so it will fit in the phone, and then you spend an hour or so, carefully soldering the components into place and when you've finished, you sit back and admire your handiwork before you then connect it to a power supply and check that it works OK, but it doesn't, because you realise almost immediately that you got the Gate and the Drain the wrong way round on the MOSFETS, but when you try to get them out, you can't because the board is too densely packed underneath and even with a de-solder pump and some solder wick you can't get the damn things out and then the tracks start to lift because you applied too much heat for much too long, so you realise that you are now just going to have to throw it away and start again?
You know when you do that?
It's bloody annoying, isn't it?