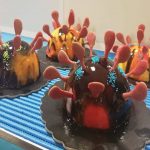 Hello, fellow isolators.
I have just returned from my single daily exercise allowance: extending the dog walk into a much longer walk up to my sister's house, to post a card through the door for my nephew.
With money in it.
I don't like putting money in their cards, especially when they are that young (he's three), but this year we have little choice.
In fact, that's the second one in just a couple of weeks.
For some reason, most of my extended family – including my immediate family: Mrs Masher and the two kids – all seem to have their birthdays within the first 4 months of the year!
And I'm only a day later than that.
I guess warm Summer weather is to blame.
However, with people being at home during this Coronavirus thing,  who knows, maybe we'll have a bit of a baby boom  toward the end of the year.
Amelia's birthday was just a couple of days ago. I felt sorry for her: normally, we would go out for a meal and maybe go bowling or something. But not this year, of course.
We did our best: Mrs M knocked up some enchiladas (one of Amelia's favourite dishes) and then we played board games instead of lounging in front of the telly.
It was fun, but not as good as Ten Pin and a Chiquito's.
Oh, and whilst I was walking the dog, I saw a lady wearing a surgical face mask.
In her car.
On her own.
What's the point of that?