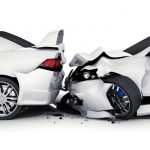 A car ran into the back of me, on the M25, whilst driving to work, yesterday morning.
Not as dramatic as it may sound, as we were in almost stationary traffic… as is always the way at that time of the morning between junctions 17 and 16.
It did catch me unawares though (obviously not expecting it to happen), and I believe I have suffered a very minor case of whiplash as a result.
My neck was mildly aching all day and I had a slight headache.
This, despite the impact happening at about walking pace.
There is no damage to my car, whatsoever… it hardly even scuffed the dirt off the back!
And yet, I hurt myself.
Ridiculous.