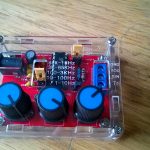 For something to do, the other day, I built a small function generator.
You know: one of those boxes that can generate a sine, square or saw-tooth waveform at varying frequencies.
You know the ones.
Anyway, it's nothing fancy: just a kit from ebay.
For a fiver.
Yes, a function generator for five quid! It even comes with a perspex box to put it in!
Obviously, it's Chinese and so the quality is a bit dubious at that price.
But it works fairly well.
Despite the building instructions:
"After completion of welding on IC, insert the might damage the chip!"
"Check the IC whether against, such as anti please timely correction."
etc
Google Translate has it's limitations, I think.