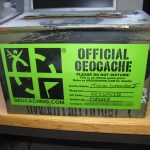 Back in 2012, I made a six-part Geocache, consisting of a series of electronic puzzles to solve.
I called it Mission: Impossible – 2  (it was the sequel to the original Mission: Impossible cache I'd made 18 years ago).
These puzzles were hidden around the countryside in a five-mile radius from my home. Each puzzle – when solved – would lead to the next, culminating in a final devious puzzle which – when solved – would unlock to reveal a logbook to sign and some cache-type goodies to take away.
As I had made it a Premium cache, meaning that only serious fee-paying cachers could play – and also because all the puzzles required batteries, which would need to be supplied by the visiting cachers – I never expected this cache to get a great deal of take up and thought it would probably only last six months or so.
How wrong I was.
OK, it didn't get the amount of traffic a non-premium cache might have got, and a lot of people who did look at it (I could see how many, from the audit function that Groundspeak now sadly seem to have removed) possibly dismissed it due to the time it would take to complete – roughly a day: a lot of cachers are in it for the numbers and would rather get 6 quick wins in a day, than have to spend all day working for just one.
But, it was completed by a goodly number of cachers, who all thoroughly enjoyed the experience, judging by some of the logs:
"I would give this cache all 10 of my favourite points if I could! " – L********61
"Wow Wow Wow.  done over 2 weekends with Morn.   we laughed we nearly cried at one stage…" – A***s T********e
"Stage 5 almost caused a divorce… Brilliant cache, great fun…"  – R****54
"Everything about this cache was extraordinary, innovative and impressive. "  – Mr & Mrs M*****
"We had a lovely afternoon following the clues. I wish there were more caches like this one."  – K****y + L***a
"What a sense of achievement to reach and complete the final stage of this wonderfully inventive multi-cache." – A********s
"Ahha… Finally thwarted the Evil Professor Masher!! …  This is truly a great series, probably the best caches I have ever seen." – G*****1
"This has to be one of the best (if not the best caches) I've ever found in my 10+ years of caching so awarding this a well deserved favourite point 
, would be more if I could." – M*d H***r
"Caches like this don't come along too often and giving it one favourite point just doesn't do it justice. Tremendous fun…" – P******e
"BRILLIANT!, BRILLIANT!, BRILLIANT!……oh, and did I say this cache is BRILLIANT!!!" – The O****s
"You're a genius Prof Masher and we salute you." – The N***y C**w
etcetera, etcetera, as the King of Siam might say.
It was even nominated in the Best Cache category at the 2016 National Geocaching Awards (Britain & Ireland). It didn't win (I don't think enough people had played) but I was pretty chuffed to be nominated anyway.
But sadly, after seven and a half years, Mission Impossible 2 is no more.  Stage 2 went missing last year, so I reworked it to make the cache into a five-parter.  But then Mrs Masher found Stage 3 damaged beyond repair, when she was out walking the dog a few weeks back. As such, I have archived it, but sadly, stages 1 and 4 were stolen before I could even recover them.  Stage 1 was always a personal favourite, as it set the scene for the whole game. A short video of it can be seen here.  Use the password: Ge0cach3!  (Trivia note: the voice you hear, is that of our very own Mr Jones).
Mission Impossible 3 is almost finished and is nearly ready to roll out. I've spent the past two years building it – not the entire two years, obviously; just here and there when I had the time.
The theft and vandalism though, make me wonder whether I should bother (The original Mission: Impossible cache went the same way, fourteen years ago).
But, every so often I'll take a read through those logs and be inspired to get it finished and get it out there.
We'll see.