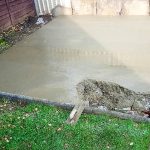 We're getting a new shed.
And so, I got a couple of quotes for a concrete base to be fitted.
And was staggered at the cost.
And so, with help from a friend, I did it myself.
We measured and we measured again.
Then we calculated how much ballast and cement we would need.
Over two days, we dug out the ground and levelled it as much as possible. Then – by shovel and wheelbarrow – we shifted two tonnes of concrete mix.
And then we ran out.
It was close, though!