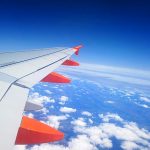 Jeez, they really know how to do hot, down in the south of France!
I'm back in blighty now, where it is pissing down with rain, as I write this.
However, we had a good time – as always – but I won't bore you with the details.
And I'm particularly pleased with this picture that I managed to take from seat 16F on our Airbus 320-200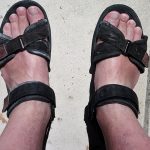 Now, see these sandals on my feet? Well, I am being constantly moaned at that they are not fashionable enough and that I should get a new pair.
But I have no intention of doing so: plenty of life left in them, I reckon.
Flip flops are the thing, apparently. But I've never liked 'em. Don't like that bit that goes between your toes.
Or the noise that they make as you walk: flip flop, flip flop, flip flop… Gets on my nerves.
Mrs Masher put hers on the wrong feet once, and they went: flop flip, flop flip, flop flip…
True story.
But, it got me thinking. Y'see, I bought those sandals to take on our honeymoon.
Twenty-four years ago.
As you know, I like to get my money's worth.
But, it occurred to me that my Clarks' sandals – being nearly a quarter century old – must be pretty well travelled by now.
And so, with nothing better to do, I sat under the air-conditioning unit and worked out in which countries they had been worn.
In no particular order:
England; France; Spain; Italy; Jamaica; Kenya; Venezuela; Brazil; Portugal; Cozumel; Kos; Canary Islands (Fuerteventura, Lanzarote and Gran Canaria); Singapore; Bali; St Lucia; Malaysia; Thailand and Grand Cayman.
Not bad, eh?
And so, unless anyone can better that, I am declaring my sandals to be the Judith Chalmers of footwear.