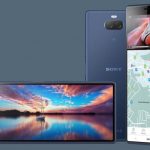 I had to smile this morning, when I received an email from Sony: their regular newsletter detailing all their latest offerings, designed to tempt me to part with my hard-earned. Pictures of their latest TVs; Home Cinema systems; Speakers; Headphones; Cameras and Smartphones. It was this last item that made me smile… or rather, wince.
Introducing the 21:9 Experience – with a wide screen, borderless design, you can multi-task with ease and enjoy films on your smartphone the way they were meant to be seen.
"… enjoy films on your smartphone, the way they were meant to be seen."
Meant to be seen?
On a tiny, likkle 6.5 inch smartphone screen, rather than on a bloody great ginormous screen at the cinema?
I don't think so, somehow, Sony.
But, I also had to smile yesterday, when I found myself following a little silver Corsa up the M1, during my morning commute. As we were stationary for quite a while – as is always the case with the M1 on a weekday morning – I was able to read what was written on the back of the car.
It's a wonder how pepole find time to hate, when life is too short to love
This wasn't scribbled on a piece of card and placed on the parcel shelf; it was (or at least, looked like it had been) done professionally.
If you are going to pay a professional to sign-write your car with rubbish sayings, you'd like to think they could spell!