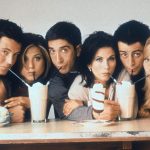 It used to be that I had plenty of friends that lived locally.
But, people move on, don't they?
There was my mate, Dave, who I've known for years and years. But, he decided to 'up sticks' one day and, after a few years of travelling around the country, he has now settled on the Norfolk coast. Bloody miles away. We used to go down the pub together on a weekly basis, back in the day, but now it's just Christmas cards and the occasional phone call.
My old buddy, Mike, who lived in the next road to me – and who I met through us both being members of the Goon Show fan club – decided to move house quite a while back. He and his missus ended up in Cornwall. Bloody Cornwall! He used to be a five minute walk away, but now it's a five hour drive!  I used to spend hours around his place, but now it's just Christmas cards and the odd email between us.
Dave and Graham were good mates who I met through work. But they also decided to move house. One went from Watford, all the way to Tewkesbury and the other from Hemel up to Northamptonshire. OK, Northants isn't such a bad trek, but it's still twice as long to get to his gaffe than what it used to take and, as such, we don't see each other nearly as much as I'd like to.
My mate, Alan, who I met via the radio (and who likes to leave silly comments on this here blog), used to live only a mile or so away, but a few years ago, he moved as far south as he could go without falling into the sea. We talk once a week on the phone, but it's not the same as the long natters over several cups of tea, that we used to have.
And then, there is my eldest and dearest mate, Paul. The best man at my wedding and a friend whom I love like a brother.  He deserted me and fucked off to Gloucestershire some years ago, when he met a bird! We see each other maybe once a year, now.
I'm starting to wonder: was it something I said?