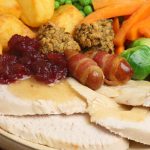 As mentioned in my previous post, Wednesday saw me at a pub in Wooburn Green, out near High Wycombe, for the GB3AL User Group Christmas dinner. It was good to finally meet up with these guys and put faces to names and callsigns.
A good time was had by all and – for me – it was marred only by the food. Bearing in mind it's the run up to Christmas, I was surprised to see no turkey dinners on the menu, so we ended up having burger and chips. "Gourmet" burger and chips. Don't get me wrong, it was bloody delicious, but it was a Christmas function and, as such, I was expecting to eat a Christmas dinner.
Thursday was the second works' Christmas do and about sixty of us descended on an Italian restaurant in Reading town centre. And this place  had a proper Christmas menu – ie, a menu especially for the season. However, once again, not a turkey dinner in sight! I had Crostata Del Giardino to start, followed by Chicken And Polpette Al Forno and finally Christmas Pudding for dessert – their one concession to a traditional Christmas menu.  The food was fantastic though and couldn't be faulted.
Maybe expecting a traditional English Christmas dinner at an Italian restaurant was too much.
And last Friday's do was an Indian all-you-can-eat buffet… again, very nice.
But…
That's three Christmas functions I have been to so far, with not a slice of turkey or a Brussels sprout to be seen.
This can't be right.
Surely.
But, I have high hopes of the fifth do next week, which is in a Beefeater pub.
Finally: the stag do we had on Friday was a boozy affair in a local establishment, which ended up with a fight at the end. Whilst I wasn't a participant, I was one of the party involved and my face is now known, so I doubt I'll be able to step foot in there again.
Oh well.