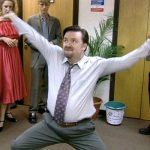 Friday was the first Christmas do of the year, for me.
It was the first of three work functions that I'm attending in the run up to Christmas.
But I also have another do next week: the GB3AL User Group Christmas Dinner: half-a-dozen blokes who I have spoken to regularly on the radio over the past year. Never met them, but I've been invited to their annual Xmas get-together, so that should be fun. I'm really looking forward to it.
Then we have the second works' do.
And then on Friday evening: a stag do.
It's gonna be a boozy week.
But no boozier than the one I went to on Friday.  Because that one had that greatest thing that any Christmas party can have: a free bar. Woohoo!
I was off my tits.
I think.
But, I also had a bit of a boogie on the dance-floor and somehow, that always seems to negate the alcohol. Don't know if I sweat it out, but for the amount that I drank, I should probably have been on my back (actually, I think I was, a couple of times). Don't get me wrong, the dancing doesn't sober me up completely – as was evident by my rubbish fleckerls – but it does seem to help.
So, one party down… four more to go.
Hic.