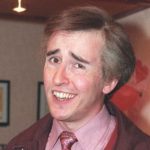 There's been a lot of good stuff on the telly over the years.
Of course, there's also been a hell of a lot of dross.
And sometimes, the good stuff can get lost in the dross.
And sometimes, even when I've heard good reviews of programmes, I find that I just don't get round to watching them.
It was like that with The Office: heard so much about it, but somehow just never bothered.
Until I was working up in Glasgow for several months and found myself desperately searching for box sets to watch in my free time. A friend lent me a DVD of Gervais' mockumentary series and I was hooked.
Likewise, I was searching through Netflix the other day, trying to find some half-hour comedy programmes to watch, when I found the section entitled "Critically Acclaimed Witty British and European Comedies".  Or something like that. And there, nestled in amongst the likes of Black Adder and Fawlty Towers was "I'm Alan Partridge".
Made eleven years ago, how had I missed this particular gem? It's just brilliant! And Steve Coogan is a bloody genius.
I know there's plenty of other stuff out there that I've missed, so if either of you have any suggestions…