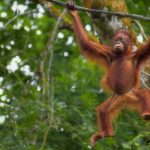 Last week, I went ape.
We did a sort of team-build event at work, where about sixty of us descended on the Go Ape tree-top adventure park in Slough (other sites are available).
Wearing our safety harnesses, we spent an enjoyable couple of hours clambering about a 30ft-high obstacle course, up in the trees.
Many parts of the course had multiple routes that you could take: Easy, Difficult or Extreme, each ending with a long zip-wire finish.
Of course, I always opted for the Extreme routes.  However, I do sometimes forget that I'm not as fit and strong as once I was and several of the routes were quite… challenging.  Still, not to be outdone by my younger colleagues, I tackled each one with gusto.
One route in particular was really hard. Marked as "Extreme", I suggested to staff afterwards that it should be re-classified as "Ridiculous".
Metal rings – only just big enough for me to get my size 12 plates into – hung from ropes, and the idea was to "walk" across, using the rings as stepping stones. Of course, they swung about wildly as you tried to do so.
With a captive audience up in the trees with me – I played it for laughs: allowing the rings to swing apart causing me to do the splits; getting my feet stuck in the rings; spinning uncontrollably; whilst all the time shouting about it -"Ooohh; Help! Yikes!" etc.
I kept it restrained just enough from going into the full Norman Wisdom, but that extra monkeying around really takes it out of you!
The day was enormous fun and if you get a chance to have a go, I highly recommend that you do.
And if you are anything like me, you'll sleep like a log afterwards.