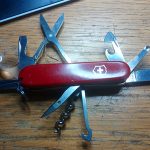 This is my Swiss Army knife.
Well, one of them.
This is the larger of the two that I own.
The smaller one doesn't have quite so many appendages, but it practically lives on my person. I carry it everywhere and it is always handy to have.  As it is always upon me though, I sometimes forget I have it… which is why it annoyingly got confiscated at Gatwick airport, a couple of years ago. Still, it made for a good gift the following Father's Day.
Its bigger brother (featured above), lives on my desk and – again – is invaluable.
So much so, that a couple of years ago, I gave one to my Dad for Father's Day, in the hope he would also find it as useful.
He did, and like me he carried it everywhere… which is why he had it confiscated at Heathrow Airport.
You can probably guess what he got for Father's Day this year.