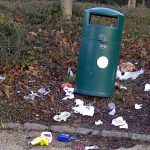 I hate litter.
And I doubly hate litterers.
Last night, when I took the dog for her our evening walk, there were a couple of young lads sitting on the low metal fence that surrounds the green. They were talking loudly and stuffing biscuits and what-have-you down their gullets.
This morning, when I took the dog out for her our morning walk, I passed by the same area.  Biscuit wrappers and empty crisp packets littered the ground, where they had just dropped them and then wandered off. Pure laziness and a complete disregard for the area.
Annoyed at this, I stopped, picked it all up and put it in the bin… which was quite easy to do, as it was less than three metres away!
Something that annoys me just as much – or even more – is fly-tipping.
We have some beautiful country lanes around here and it really gets my blood pressure up when I'm driving/riding along one of them, and I see an old washing machine sitting by the side of the road – dumped there under the cover of darkness and left for the taxpayer to foot the bill for clearing it up and disposing of it properly.
At work, there is an alleyway that runs parallel with the train line at the back of our car park.  The alleyway has high fencing on either side of it.
And yet, someone has gone to a lot of effort to carry an old sofa down this alleyway – can't have been easy, as it's quite narrow – and then bodily lift it over a seven-foot high fence, in order to dump it on the grass verge next to the train tracks.  Again, all done in the middle of the night, probably.
It would have likely been easier to take it to the local Tidy Tip, which is about half a mile away.
I know there are fines for littering and also for fly-tipping, but it doesn't seem to deter anyone as the chances of being caught are negligible.
A stronger penalty is needed, in order to make these people think again about what it is they are doing.
Death, maybe.