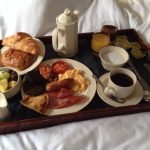 The erudite Mr Jones mentioned in a post earlier, of how much he enjoys taking his morning tea back to bed with him.
I think he has also mentioned previously, the joy of having breakfast in bed.
You are sadly mistaken, my friend.
Many claim this as an enjoyable little luxury, but does anyone really enjoy having breakfast in bed?
Really?
You know already that I don't!
I've never seen the attraction.
Firstly, I don't see how sitting upright in bed, propped up with pillows and balancing a bowl of Rice Krispies – other breakfast cereals are available –  can be more comfortable than sitting in a chair at the dining room table. Let's face it, it's not.
And then there's the tray – if you have one. Again, balancing a tray containing a bowl of cereal and/or toast; a cup of tea/coffee; a glass of juice etc, isn't easy. One wrong move – a sudden burst of hiccups – and it's all over your 10 tog, duck-feather duvet – of course, other tog values are available.
Then there are the crumbs – especially if you have toast.  Doesn't matter how careful you are, there will be crumbage. Which you won't find until you get back into bed later that evening, when it will feel like half of Yarmouth beach is in bed with you – other, stonier, British beaches are available.
So please, tell me, where's the luxury in that?
Or am I missing something.