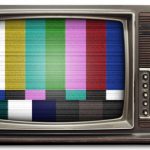 Working – as I do – alongside people of a younger generation, I'm constantly reminded of just how fucking old I am.
I was chatting with one such millennial the other day, and he was saying about how he was thinking of getting Sky TV, because he was a bit of a night owl and there's not much on the thirty-or-so terrestrial (Freeview) channels after midnight.
He was genuinely taken aback when I told him that I could remember when we only had three TV channels: BBC1; BBC2 and ITV and that they would all switch off sometime just after 11pm, after playing the national anthem.
I told him of how – in 1982 – I made a special effort to get home from work early, just so I could watch the launch of Channel 4.  I was so excited at the time: an extra TV channel! This was history in the making.
Of course, nowadays, new TV channels come and go regularly. Some have fleeting lives, lasting only a few months whilst others seem to go on forever, despite the niche audience they are targeted at.
For today's generations, this is the norm: super-thin flat-screen TVs with a gazillion channels.
But for us old farts, four channels was always enough.
Some would say it still is.