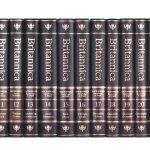 I don't mind admitting that, when I was young, I was a bit of a swot.
I loved reading and I loved learning from reading.
Even if I were reading a storybook (a novel, in adult parlance), I would generally learn something. 
About the world.
About nature.
About humanity.
Something.
Many times, I would just learn a new word. I loved learning new words and would often take two books to bed with me: a novel and a dictionary – so I could look up any words I didn't understand.
It's no idle boast that as a young teenager, I easily had the largest vocabulary in my family.
My parents bought me a small set of encyclopaedias – I remember they had purple covers – and they took pride of place on my bookshelf.  I'm pretty sure that I read them from cover to cover more than once, over the years.
On a Saturday, I would go into town on the bus and would spend a happy couple of hours in the Town Library… just reading anything that took my fancy or – more often than not – looking up something that I'd heard or read about and just felt I needed to know more.
Once I started work, I never had the time so much, to go into the library. More than that, my thirst for knowledge became more immediate: if I wanted to know about something, I wanted to know about it now! And so, I spent over a thousand pounds on a set of Encyclopaedia Brittanica.
A beautiful set of books and, undoubtedly, the best repository of knowledge that money could buy… at the time.
I kept them for years.
And then Tim Berners-Lee invented the World Wide Web.
A game changer.
In an amazingly short period of time, all the major knowledge houses had their encyclopaedias or dictionaries and the like, online. Even Microsoft got in on the act with it's own encyclopaedia: Encarta, which, to be fair, was really very good.
And then, of course, we got Wikipedia – another game changer… because it was free.
Nowadays, just about anything you want to know (and at any time you want to know it), is available somewhere online. For free. It's bloody fantastic!
And, at Amelia's Parent's Evening, last night, the teachers were extolling the virtues of several websites, aimed specifically at helping kids with their education, by providing online, extra-curricular lessons and teaching.
Wow! If I'd had all this when I was their age, maybe I would have done better at school than I did.
Maybe I'd have gone on to university and made a huge success of my life.
Or maybe I'd have been a winner on The Chase.