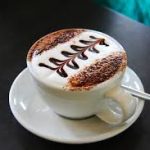 I've mentioned it before but, I still cannot get my head around how important coffee is. 
To some.
I just don't understand what it means to some people to have a 'proper' cup of coffee.
Maybe that's because, whilst I don't mind the occasional cup of Joe – as our American cousins inexplicably call it – I am, in the main, a tea drinker.
I don't want to pay extortionate prices for a skinny-flat-white-mocha-latte-cappucino (essentially, two spoons of Nescafe topped up with hot milk), when I can get a whole jar of Maxwell House for the same price.
But I seem to be in an ever-shrinking minority.
More and more coffee shops proliferate our high streets and they always seem busy: full of people holding huge, white, ceramic cups full of the dark brown liquid.
Trains and public areas are littered with cardboard cups, all bearing various logos from the well-known establishments.
At work, we have recently been getting visits from a mobile 'proper' coffee wagon. It pulls up outside a few times a day and beeps its horn. Within a few minutes, there is a line of people queueing up, to get their morning fix.
Honestly, I have seen some of them stand there for up to fifteen minutes, in freezing temperatures, just to get a cup of coffee.
Fifteen minutes!
I'm on my second cup of PG by then!