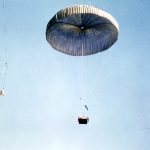 A few years later – somewhere around 1989/90 – the same thing happened again: a chap at work brought in a leaflet and said that we should all do a parachute jump as a team, for charity.
Now, at the time, I had a bit of rivalry going on with Pat. He was always trying to outdo me at work – completing more surveys; finishing the job a bit quicker, that sort of thing. And I was doing the same to him. It started as friendly rivalry, but developed a bit of a harsh edge as the months passed.
It also didn't help that we were both vying for the affections of the same girl in the office: Liz.
Liz was intelligent, easy to talk to and – being a former beauty contestant winner – was as pretty as they come.
She was also up for a challenge, so she put her name down for the parachute jump. Having already done one, I put put my name down too, without hesitation.  Not wanting to lose face in front of me or Liz, Pat also signed up, despite obviously being as nervous as hell about it.
When the time came, we went to the airfield and -as I had done before – spent the whole of Saturday learning the correct way to fall out of an aeroplane.
It was a bright Sunday morning, as we lined up on the airfield, wearing all our kit and caboodle. We had been told in training that the last person on the plane would be first to jump, and so I made an effort to get in the line before Pat. I wanted him to jump before me, because I knew he was bricking it and I wanted to see the horror on  his face when it was his turn to jump.
The jump-master made his way along the line, checking that each of us had strapped on our parachutes correctly. When he got to me, he stopped and gave my chute a good checking over. "How much do you weigh?" he asked, looking me up and down. I told him. "You need a bigger chute", he said matter-of-factly, "Double over to the chute-hut and get another."
I legged it over to the large barn that stored all the parachutes and plonked my one on the counter. "I need a bigger one", I said.
"That's the biggest we do", said the chap behind the counter. "You'll have to have a cargo chute".
"A cargo chute? Will that be OK?"
He nodded and so I grabbed it and ran back to the plane, where everybody was now on board, waiting for me. The jump-master helped me on with my chute and bundled me on board the waiting aircraft, where I had to squeeze in at the back.
On my first jump, a few years earlier, we went up in a small 6-seater (with the seats removed) and when it was time to jump, you sat in the doorway with your legs outside and pushed yourself out when you were ready.  This plane was much larger and held about 15 people (older readers may remember seeing it, as it featured as part of an advert for the Abbey National back then) and the back was open, so you just stepped out and dropped. A very different kettle of fish: a worserer kettle of fish!
"You ready?" asked the jump-master.
I stood up in position and found Liz' face amongst all the crash helmets staring back at me. She gave me a little smile of encouragement.
And then I saw Pat, grinning at me like a loon. He was loving that I had to go first.
The jump-master tapped me on the shoulder: my cue.
I gave Pat a wry smile, turned, and without hesitation, stepped out of the door.
"ONE THOUSAND… TWO THOUSAND… THREE THOUSAND… CHECK CANOPY"
Like a seasoned pro.
On the ground, I gathered up my chute, and looked up to my colleagues who were still falling from the sky.  I kind of hoped that Pat would have bottled it, but he didn't. No-one did: everybody made the jump and there were no injuries.
Apart from Liz, who twisted her ankle upon landing. 
Stuart- the storeman – helped her hobble back to the training area and took her chute in for her.
They started dating the following weekend.