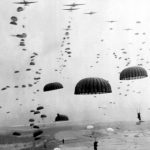 A few years ago (well, 1985 to be precise), me and three mates decided to do a parachute jump.
It was Rob's idea. We were seated in the cafè, one Saturday morning, when he showed us a leaflet. "I found this", he said, excitedly. "You get to do a free parachute jump if you raise sixty quid for charity. I reckon we should do it".
We discussed it for a while and agreed that, although it was a somewhat scary thing to do, it would give us plenty of kudos amongst our peers and would make us look cool in front of girls (none of us had a serious girlfriend at the time).
We booked a date a few months in advance and once the sponsorship forms came in, I set about collecting as much money as possible. £120 needed to be raised: 60 for the jump and the remainder to the charity… which I think was the British Heart Foundation. It didn't take me long to collect the full amount, I mean, hell: I was going to jump out of a fucking aeroplane!
The date got nearer and then Chris suddenly announced that he wouldn't be able to do it as – all of a sudden – he had a wedding to go to that weekend.
A few days later, Steve announced that he wouldn't be able to make it either, because of "… a family matter".
And finally, a week before the jump, Rob phoned me and told me that he had badly sprained an ankle.
Bastards!
I went on my own and spent a whole Saturday learning how to fall out of a plane:
"ONE THOUSAND… TWO THOUSAND… THREE THOUSAND… CHECK CANOPY!"
On Sunday, I jumped.
"ONE THOUSAAAAAAAAAAAAAAAAAAAAAAAAAAAAAAAAAAAAAAAHHHH… JESUSCHRIST… CANOPY…  YAY!!"
It was the single most exhilarating thing I'd ever done.
But sadly, my daring exploits didn't seem to impress the female population very much.