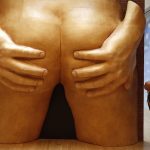 I received a letter from the hospital, a little while back.
"You're getting on a bit, now", it said, "and, as such, we'd like to stick a camera up your bum… if that's alright."
OK, I may have paraphrased it a bit there, but in essence, that is what it said. "We want to stick a fuckin' great big camera, with "Property of the BBC" written all over it, up your arsehole… so we can check for bowel cancer."
Well, I wasn't having any of it, I can tell you. 
That's until several mates of a similar age, made me see sense: it was for my own good.
Apparently.
So yesterday, I wandered up to the hospital and, somewhat apprehensively, pressed the buzzer on the door marked "Endoscopy".
This was after I had "prepared" my lower bowel for inspection. Have you ever tried to give yourself an enema? Not the most enjoyable or dignified experience, that's for sure! 
Back at the hospital, after a bit of form-filling and having an ID tag fitted to my wrist – they didn't want to stick the camera up the wrong backside! – I stripped off and put on a hospital gown and a pair of baggy shorts with a hole at the back… a hole at the back for obvious reasons.
The doctor introduced himself and his team – there were five of them – and they set about getting on with the procedure.
"I'm just going to put some lubricant in that area", he said, reaching over with his gloved hand. He didn't fuck about! No wooing or advising me that I might want to bite on something: he was straight up there! Yoinks!
I'd barely got my breath back when… up went the camera!
A TV monitor was placed in front of me and the doctor helpfully explained what was what, as he pushed the snakelike camera further into me. To be honest, it didn't really interest me much, seeing my own insides like that.  "Can't you put Loose Women on… or something?", I asked. 
Apparently, not.
I closed my eyes and hoped it would be over soon. 
After what felt like an hour, but was probably only ten minutes of prodding and pushing and me continually feeling like I was shitting myself (but wasn't), the doctor pulled it all out and gave me a clean bill of health in the botty department. Yay!
And, following today's news, I now need to go and get something else checked out.
Who knew that getting older could be so much fun!