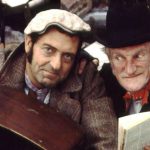 I have spent the last two nights up in the loft, trying to clear some space, because we are decorating the kids' bedrooms and some extra electrical wiring needs to be run in.
Now, I know that most of the stuff up there  (which Mrs Masher refers to as 'a load of old junk', but is actually all really useful stuff) is mine.
And I know that I really do need to sort it out, sometime.
But.
It's not ALL mine.
You know those Really Useful plastic boxes that they sell in such places as Homebase and Staples?  We've got loads of 'em up in the loft. All different shapes and sizes. And all full of tat. Apart from a couple of them that belong to me, that are obviously full of really useful stuff.
Really Useful boxes filled with really useful stuff.
But, there are several boxes full of stuff that the kids did when they were young: paintings, small clay models; shit like that. Why are we keeping it all? It's memorabilia.
Apparently.
There are boxes of clothes that Mrs Masher is hanging onto, just in case she's ever likely to squeeze into them again.
Slim chance.
Wallpaper!  You know when you finish decorating and you have half a roll of wallpaper left over, and you think "I'll hang onto that, just in case some bizarre accident ruins a single piece and I have to re-hang it" , then up in the loft it goes?  Well, yesterday, I brought down dozens of rolls and semi-rolls of wallpaper that had ended up up there. Some of it dated back twenty years to when we first moved in and Mrs M and I spent quite a while going through it all; recognising various wallpapers but not being able to remember which room they'd been hung in.
And suitcases!  We are a family of four. So why did I count thirteen different suitcases? Jeez!
Now, I'm not one for New Year resolutions but, that loft IS going to be sorted out.
This year.
You heard it here first.
But I think I may need to order a skip.