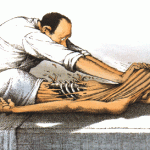 At the request of young Jules:
I've always felt that massages were a waste of time. Over the years, I've had a couple of amateur ones – performed by Mrs Masher – and never felt any real benefit from them.  The story below is an extract taken from my Holiday Diaries, from when we were in Egypt some time back.  Mrs M had booked herself in for the full pamper package at the on site spa and she had persuaded me to try a 'proper' massage… 
At this time of year, the sun starts setting here shortly after 4pm and it was already low in the sky with the light starting to fade, so I decided it would probably be a good time to go and have my massage.
Arriving at the Spa & Fitness Centre, I was given a menu detailing the range of different massages available. I opted for the straightforward Classic Massage: none of those special toning oils or aromatherapy crap for me!
I was led to a small room lit by candles, which had a massage bed in the middle of it: one of those with the hole in it to stick your face into. I removed all my clothes apart from my swimming shorts and lay face down on the bed as instructed and waited for the ample breasted, fit young dusky maiden to come and rub her soft and sensuous hands all over my body.
A young bloke turned up, of course.
He covered me with warm towels then his hot, oily hands started working my feet and toes. I was biting my lip in an effort to not  laugh, as it tickled so much.
Then, he moved up to my calves. "Do you want it soft, medium or hard?" he asked softly.
"Pardon? Oh, er, medium will be fine, thanks."
His hands rubbed and slapped at my calves and then he moved up to my thighs. He pulled the legs of my swimming shorts up as high as possible until they resembled an ill-fitting thong. His hands kneaded and squeezed and pummelled my thighs and buttocks. "Relax boss," he said, feeling me tense up at his touch. Relax? There is a man squeezing my buttocks and he's not a doctor! How am I supposed to bloody relax?  
But I tried. I let myself go, telling myself all the time that there was nothing to worry about: that this man was a professional masseuse. In doing so, I found I actually started to enjoy it. I was cautious not to enjoy it too much though: didn't want to find myself nursing an unexpected and unwanted semi!
Gentle Egyptian music played in the background and the young fellow sang softly as he worked on me. I was starting to doze off when he pulled the towel from my back and rolled the top of my trunks down. Suddenly, I was wide awake again, as I felt him climb up onto the bed, his feet either side of me, straddling my backside.
Then something warm and wet spurted across my back!
"It's oil! It's just fucking oil!" I told myself, as I lay there, face through the hole in the bed, my eyes darting frantically around the floor to find something to focus on and take my mind away from what was going on behind my head.
Again, he kneaded and squeezed and pummelled and pushed, but much harder this time, his position above the bed giving him the extra leverage he needed to push every ounce of muscle or fat through the back of my ribcage. It actually hurt!
Then he asked me to turn over and he massaged my shoulders and neck. Fresh, warm towels were placed over me again and then he used just his fingertips to massage my head and my face… which just felt fucking weird.
When he had finished he motioned me to get off the bed and get dressed. "How do you feel?" he asked.
"Really good," I lied.
Anyway, I've tried it now and I stand by my original claim that it's a complete waste of time. Yes, I suppose it was enjoyable – in a way – but at the end of it, I didn't feel any better; no more limber or looser or whatever.
At least I need never bother with another one.