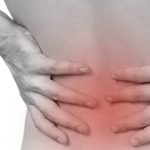 Well, what a great start to the New Year.
Last Wednesday, I awoke with a pain in my lower back. Not debilitating, or anything like that, but a bit sore on the left hand side.
It stayed with me for a couple of days and didn't seem to be easing, but it wasn't causing me too much bother. 
And then, Friday lunchtime, I was sitting on the sofa, eating a sandwich whilst watching a bit of telly, when I did something that would put me in agony for the next few days.
I crossed my legs.
That's all: I just crossed my legs.
As I swung one leg over the other, the pain in my back shot from one side to the other. 
It has literally crippled me. I'm walking around like I've shat myself and it takes me about ten minutes to get dressed… that's without the socks. I can't put them on at all!
As a long-term sufferer of back pain, I know that it will clear up. Eventually.
Meantime, I'm on industrial strength Ibuprofen.
First day back at work, today. That should be interesting.