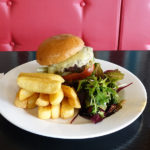 I took a day off work on Friday, so that the current Mrs Masher and I could spend some quality time together.  Sans kids.
To be honest, I fully expected that would mean a day being dragged round the shops. But no: Mrs M had already done the bulk of her Christmas shopping and didn't fancy another trip to Lakeside.
"You don't want to go shopping?!" I was close to calling the doctor, but she assured me that she wasn't ill.
It was  a still morning; bright but frosty, and so we took the dog on a lovely long walk through the woods. There wasn't a soul around and we thoroughly enjoyed our stroll.  With just the two of us, and the light dappling through the trees as we walked, it was almost… romantic.
"Fancy going somewhere for lunch?", I asked. She was right up for that so, come lunchtime, we took a walk up to our local. It was a bit busy in there, but we found a table and perused the menu.  Having picked out a couple of rather splendid looking burgers, I went up to the bar to order our grub.
"There's an hour's wait for food", said the surly bartender. An hour?!  Sod that!
"Let's try the Beefeater up the road", I suggested. It was only a further ten minutes walk.
But when we got there, we were aghast at the prices.  i don't mind paying forty quid for a proper meal for the two of us, but not for a lunchtime snack!
"There's always The Bramingham", I said. This truly is our local, but we don't visit it very often. And so, we set off at a brisk pace, as lunchtime was now rapidly turning into mid-afternoon.
We arrived at The Bramingham to find it closed for refurbishment. Yet again. It's one of those pubs that seems to change hands every few years.
There was only one thing for it. Across the road was Sainsbury's. We both looked at it.
"Cafe?"
"Cafe!"
And so, we had omelette and chips and a lukewarm cup of tea, instead of the burger and pint that we'd both been so looking forward to.
Later that afternoon, I had to take some rubbish up to the Tidy Tip. I invited Mrs Masher along for the ride, but she declined.
I suppose a girl can only handle so much extravagance in one day.