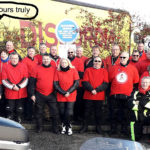 Today I joined several hundred other bikers and took to the M25 as part of the annual Ride Of Respect that takes place each Remembrance Sunday.
Starting at Toddington Services on the M1 and, bedecked with red t-shirts over our leathers, my group left at 1pm to join the M25 for around 1:30.  There were probably about sixty of us and we rode in staggered formation in the first lane.
It's been a long time since I rode in formation with such a large group, but I really enjoyed it. The idea was for other groups to join at respective points around the M25 in the hope of making a single line of red around the London Orbital, so as to form the world's largest poppy (or poppy representation!). Whether that was achieved or not, I don't know, but much money was raised in the process, so we achieved something, at least.
We rode for about an hour, round to Thurrock Services and I was quite knackered by the time I got there. The cold weather worked it's way through the fifteen layers of clothing that I had on and made it physically tiring. And the concentration required to stay in formation and keep a close, but safe, distance to the bike in front – not to mention being aware of the constant hazard of cars and lorries cutting through us at every motorway junction – made it mentally tiring.
But, it was challenging and there was great camaraderie – as there usually is between fellow motorcyclists – and it was also quite a sight to see, I'm sure.
If I do it next year, I might just have to squeeze another layer on though.