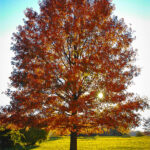 One of the joys of having a tree in the garden, is that I get to meet new people.
It starts every year, around this sort of time.
There will be a knock on the door, and when I open it, I am usually met with some bloke in outdoor work clothes, who goes into detail about how he is in the area doing some tree work for people in the next road.  He had noticed my tree and wondered whether I wanted it doing, as it's looking a little bit of a mess.
Normally, I will just say that I'm not interested, take the proffered business card and shut the door, because a lot of the time they are just chancers trying to get some work.
Jack was one of these. He knocked at my door some years back and gave me a reasonable quote, so I let him and his boy have a go at it.  I watched in horror, as they clambered about in the tree, swinging a chainsaw around, neither of them wearing a single piece of PPE… not even gloves.
The tree looked a mess for a while, but after a couple of years – like a bad haircut – it grew out and looked OK again.
Jack has knocked several times since, but I have declined his services each time.
But the guy who knocked today, looked and talked like he really knew his stuff.  Dressed in all the proper gear – green trousers, green t-shirt – Barbour body warmer and boots – he looked the part.
The tree was starting to look a bit overgrown and tatty – like my haircut – so I let him give me a 'free quote'.    He looked at it for several minutes, pointing out to me what he recommended should be done.
And then told me he could do it for just 400 pounds.
Just 400.
A bargain.
Yeah right. I think I'll wait till Jack the hack  comes knocking again.