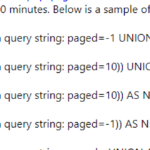 In recent months, the software that I use to protect this site from malicious attacks, has seen a marked increase in the number of attempts that have been made to 'get at it' – to use a term I am sure is often cited in the computer tech world.
Why anyone should want to get at my humble little site, is a mystery to me.
But it is concerning.
Our resident expert in such things, assures me that there is most likely nothing to worry about. as it's probably just bots doing their thang.
I have taken relevant precautions: changed the default login name and password to something which would be far more difficult to crack and stuff like that, but it still concerns me, as the attacks seem to be on the increase. Was it something I said, I wonder?
And then yesterday, I got the report shown in the pic above.  342 in ten minutes! This is getting silly.
Dave, as you can see, it's over your way, could you have a word?