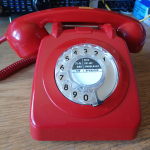 Yesterday – May the wunth – was my birthday.
As is usual on my birthday, I bought myself a little present.
That's it there in the photo on the left.
Ain't it luverly?
That, my friends,  is an early 1960's GPO Type 706, as you well know. Beautifully refurbished and fully working. Oh, you should hear her ring – proper bells!
I'd actually wanted a Type 746; y'know, the one with the improved regulator circuit. But I couldn't find one in red. And I really wanted red.
I actually bought it for a little project I am working on, but I am just so enamoured with it, that I might just leaved it plugged in and sitting on the coffee table in the lounge.
If nothing else, it's a conversation piece.