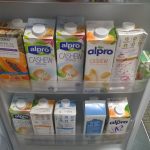 This is a picture of the inside of our fridge, at work.
Where once it was filled with lovely cow-juice, it is now slowly filling with 'milks' from oats and nuts.
I have no idea how you milk a nut, but I'll let you make your own jokes on that one.
Veganism seems to have become suddenly trendy and I know several people who have converted to it.
As an animal lover, must say that I agree with it in principle and would possibly do the same.
Were it not for the sausage and egg sandwich.
With brown sauce.
That's the problem with animals… they just taste so good!