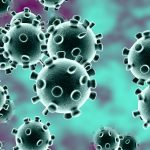 I'm ill!
I have the dreaded lurgi!
It's probably just a cold.
I have flu-like symptoms: sneezing; chesty coughing; headache; just generally feeling shit.
It's probably just a cold.
But, with this virus thing going about – Covid 19 as it is now officially known – one can't help but wonder.
Because the symptoms are very similar.
The mind tries to re-trace the past couple of weeks, to see whether you have come in to contact with anyone from one of the countries listed as risky. Of course, you have no way of knowing for sure.
Except… I do.
One of my guys has recently returned from Thailand and I spent some time with him last week.
Thailand is on the list!
And he fell ill, last week.
But he got better.
So it's probably just a cold.