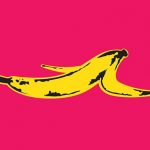 It annoys me that I can never remember jokes.
Even the good ones.
I heard one yesterday morning on a podcast: a nice quick two-liner. "Ahh, that's a good one", I thought, "I'll tell that to the kids when I get home."
Fat chance!
Could I remember it?
Could I 'eck as like.
I was doing my food shopping in Sainsbury's on Saturday, when I bumped into an old fellow as we both went for the free-range carrots at the same time. We explained niceties for moment, apologising to each other in the way us British do, and then he said to me – apropos of nothing – "Did you hear the one about…" and he proceeded to tell me a joke.
I smiled and gave a little laugh as I tried to back away toward the weighing scales. I remember thinking that it was actually quite a good joke… even though he telegraphed the punchline.
But, I'm damned if I can remember it now.
Then, as I was rummaging through the broccoli, there was a tap on my arm and I turned to see him standing there, smiling at me, although his trolley was still over by the carrots. "Two nuns walk into a bar…" He was evidently enjoying the opportunity to try his material out on someone other than his grand-kids and he told me three jokes in all… none of which I can remember now.
I laughed politely and continued with my shopping, aware that he was only a few steps behind me as I walked on.
I think I lost him in the next aisle, somewhere between the onions and the stringless beans.
He might still be there now, accosting any shopper that will listen.
"My wife's so fat…"