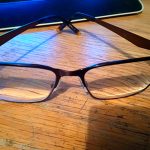 These are my glasses.
Or "spectacles" if you prefer.
I used to have really good eyesight and then… I hit 40.
Suddenly, I found I needed glasses for reading.
But as my eyes worsened, I then needed stronger ones for reading and close-up work and weaker ones for mid-range. My far-sightedness was fine, but even that weakened after a while. I found  I was carrying around several pairs of glasses with me.
And, it reached a point where I was balancing two pairs of glasses on my nose, whenever I needed to read really fine print or do very close-up work.
And so I made a decision to change and last year (might have been the one before), I opted (no pun intended) for Varifocals.
And what a boon they have been.
I should have done it sooner.