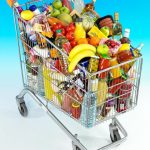 I quite like shopping.
There, I've said it.
Out loud.
Of course, that's only if certain conditions are met:
I'm on my own

I know what I want to get.
Which I usually do.
I always do the weekly food shopping, for instance, and I don't even mind doing that.
It normally takes me about an hour on a Saturday morning. Unless, for some reason, Mrs M decides she wants to come along. In which case, it's going to take twice as long.
And cost twice as much.
But, on my own, I can whizz round.  I don't make a list, I just go up each and every aisle, remembering what I need as I go and grabbing anything that's on special offer.
I have my regular bit of banter with Hazel and Carole on the Deli counter, and Suzanne knows exactly what to make for me when I approach the pizza section. "The usual? It'll be ten minutes."
And if I have time, I'll start the whole process  with a cup of tea and a toasted teacake in the cafeteria, first.
Shopping. What's not to like?
Tell me.