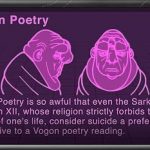 … I don't like Thursdays.
"I can never get the hang of Thursdays", said Arthur Dent.  Well, I can sympathise with him on that.
It's not that I don't like them. In fact, I rather do.
Thursdays at work, always tend to be a bit manic. For some reason Thursdays seem to have become Meetings Day. We tend to have a lot of meetings throughout the week, but on a Thursday, I can often be in back-to-back meetings for much of the day.
In one respect, I quite enjoy it – it's good to be busy and it stops me spending money on ebay, buying stuff I don't really need.
But, whilst you are in a meeting, you are not getting on with other stuff and, consequently, I find myself falling behind and then having to play catch-up on the Friday.
And no-one wants to be doubling their workload on a Friday, do they?
POETS day, we used to call Fridays: Piss Off Early Tomorrow's Saturday.
I remember when I worked at BT, we had a contractor, Norman, working with us for a while. A very mild mannered gentleman. Very well spoken. Very genteel.  And despite the foul language that often rent the air, we never heard even the slightest of cuss words leave his lips. Even when we tried to make him swear… which we often did.
And then, one Friday lunchtime, he packed his toolbox and said, "Right, I'm off… it's POETS day."
"POETS day?", said Jim, feigning ignorance, "What's POETS day?" and we all leaned in, waiting to hear Norm utter a rude word for the very first time.
"Have you not heard that one before?" asked Norman, slightly amazed. 
"No, tell us", we all cried.
"Pop Off Early Tomorrow's Saturday"
Arses!