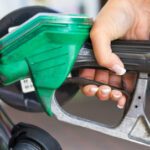 I filled my car up today.
With fuel.
At a petrol station.
That's a pretty rare event these days, when I work from home and rarely travel out in the car for anything other than the weekly grocery shop – a return journey of less than a mile.
Yes, there have been the occasional trips up to the local DIY store (y'know, that big one owned by the actresses Linda Barron and Pauline Quirk) and also up to the local Tidy Tip (currently the top meeting spot in the area for singles to meet up), but other than that the car just sits on the drive, doing absolutely nothing to warrant it's overpriced insurance premium.
So, on yesterday's trip to the supermarket, I was slightly surprised when the fuel warning light came on, warning me that I only had fifty miles left in the tank . Fifty miles! That would probably get me to the end of April, to be fair.  But, I thought I'd fill up anyway, as I don't like letting it run too low.
And it occurred to me, as I stood there pouring hydrocarbons into the tank, gripping the nozzle and watching the numbers scroll up rapidly, that I honestly could not remember the last time I had done this.
I could not remember the last time I had filled my car up with fuel.
And so, I have just looked back through my bank statements and found that it was November 9th last year.
Five months ago!
How ridiculous is that?