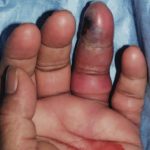 Last weekend, I was rummaging in the bushes, trying to find an illegal immigrant (a true, but rather dull story).
I never found him, but when I emerged from the brambles and bracken, I was covered in thorns. Most were caught in my Peter Storm fleece jacket and Extra-Tuff hiking trousers. However, some were stuck on my hands and I pulled them out, gingerly.
One particularly large one was embedded right on the knuckle of my hole finger and I winced as I pulled it free. There was a little blood, but I thought nothing more of it.
Until a few hours later, when my finger had swollen considerably and I couldn't bend it. It was sore as hell and woke me several times in the night with its throbbing.
Mrs M looked at it in the morning and said I should go up to the hospital. No way! I wasn't spending half of Sunday sitting in A&E with a poorly finger, whilst ambulance staff hurried past me, carrying people with serious injuries: limbs missing and bits of their brains hanging out; zapping their  chests with defibrillators… "Clear!"
At least, that's what I imagine  a typical Sunday morning at our local hospital to be like.
And so, I grinned and I beared it.
And then I stopped grinning, because it bloody hurt.
Ibuprofen helped with the swelling, but it was obviously infected and needed antibiotics.
I went to the chemist to stock up on more Ibuprofen and whilst there, I asked for some advice from the pharmacist.
She looked at my finger and said "Well, Ibuprofen will help with the swelling, but it's obviously infected and will need antibiotics".
Helpful.
"So, you're saying I need to go to the doctors'?"
She nodded.
"But it will probably be better by the time I manage to get an appointment. Or my finger will have dropped off."
She smiled and nodded again. "I know. Sorry."
And so, figuring that there must be some home remedies that I could use, I turned to the internets for help.
Turns out that natural antibiotics do exist – although there is little scientific evidence to back them up.
By all accounts, a daily dose of garlic can help fight infections. The downside is, you'd then smell like a Frenchman, and I really don't fancy that at all.
And so, I am trying two others: Echinacea – a natural herbal product that can be bought easily at the local supermarket and Makuna Honey – two teaspoons a day on toast.
Both have differing antibiotic properties, so I reckon that between them, they should be able to sort my finger out.
I'll keep you posted.
BTW. that's not my finger in the above picture – I never thought to take a photo of it when it was at it's most swollen, so that is also off the internets. Sorry.