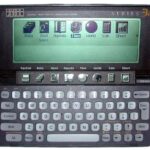 Many years ago, I had a Psion Series 3 handheld… remember them?
I loved anything gadgety and the Series 3 fitted the bill nicely.
When it was superceded by the Series 3A, I immediately went out and bought one, even though it wasn't that much of an upgrade.
As I remember, it cost about three hundred quid at the time.
And I was amazed, when Mrs M and I went on a shopping trip to New York just a few weeks later, to see the very same device being sold for almost half the price!
I wouldn't have minded so much, but the damn thing was designed and built in Britain, so how can it be so much cheaper in a different country?
Fast forward to today: I was mooching through some ham radio videos on YouTube, and in one of them, someone – an American chap – showed how to build an interesting project using a Raspberry Pi, and in his video, he showed how all the parts could be sourced from Amazon. He even showed the actual Amazon pages, so one could be sure of buying the right parts.
Intrigued, I noted them all down and then went to the UK Amazon site. I then found all the parts and totalled up the price.
It worked out to be fifty quid more than what this guy paid for it in America!
The Raspberry PI itself made up over half of that difference: 64 pounds in the UK, but only 37 in the US… 27 quid cheaper!
Again, the Pi was designed in Britain.
It is a hugely successful British product.
And whilst some are made in China and Japan, the bulk of the forty million or so that have so far been sold around the world, have been made in the UK.
So why the hell are we that live in the UK having to pay so much more?