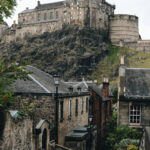 The current Mrs Masher and I decided we needed a break and so a long weekend was just had, up in that there Scotland.
Edinburgh, to be more exact.
And very nice it was too, apart from the journey up there, which took nearly nine hours  – even with Mrs M and her decidedly heavy right foot doing the driving.  So many hold ups and accidents! I would say that people have forgotten how to drive properly, during the pandemic, but let's face it, the roads were just as bad before.
We stayed in a very nice hotel just outside of Edinbugger for two nights and then spent the third in a Premier Inn actually in the city, but on the waterfront.
The bus and tram system there is superb and very reasonably priced, but even so, we did a lot of walking. A LOT of walking.
We did a tour of the castle – of course.
And we walked the length and some of the breadth of Princes Street.
And, of course, the Royal Mile.
Which felt like the Royal Two Miles to my poor, aching feet.
And we did a tour of the Royal Yacht Britannia, finishing with tea and cake in the tea room.
Because we is posh, innit.
The yacht was fascinating: we even saw the royal sleeping quarters. Interestingly, Her Maj and Phil both had separate bedrooms, with single beds.  There was only one room with a double bed in it, which Charles had apparently installed when he was boffing Diana.
But, walking around the boat, you certainly got a feel for the very different way of life these people led/lead.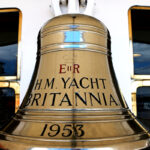 I've actually  been to Edinbruff several times before, but only for work and you don't really get to see much when flitting from site to site, in a car filled to the brim with lasers and fibre optic patch cords, so it was really nice to be able to take in some of the sights and absorb some of the grandeur of this historic city.
We had a really good time.
Just a shame about all the bloody roadworks everywhere.